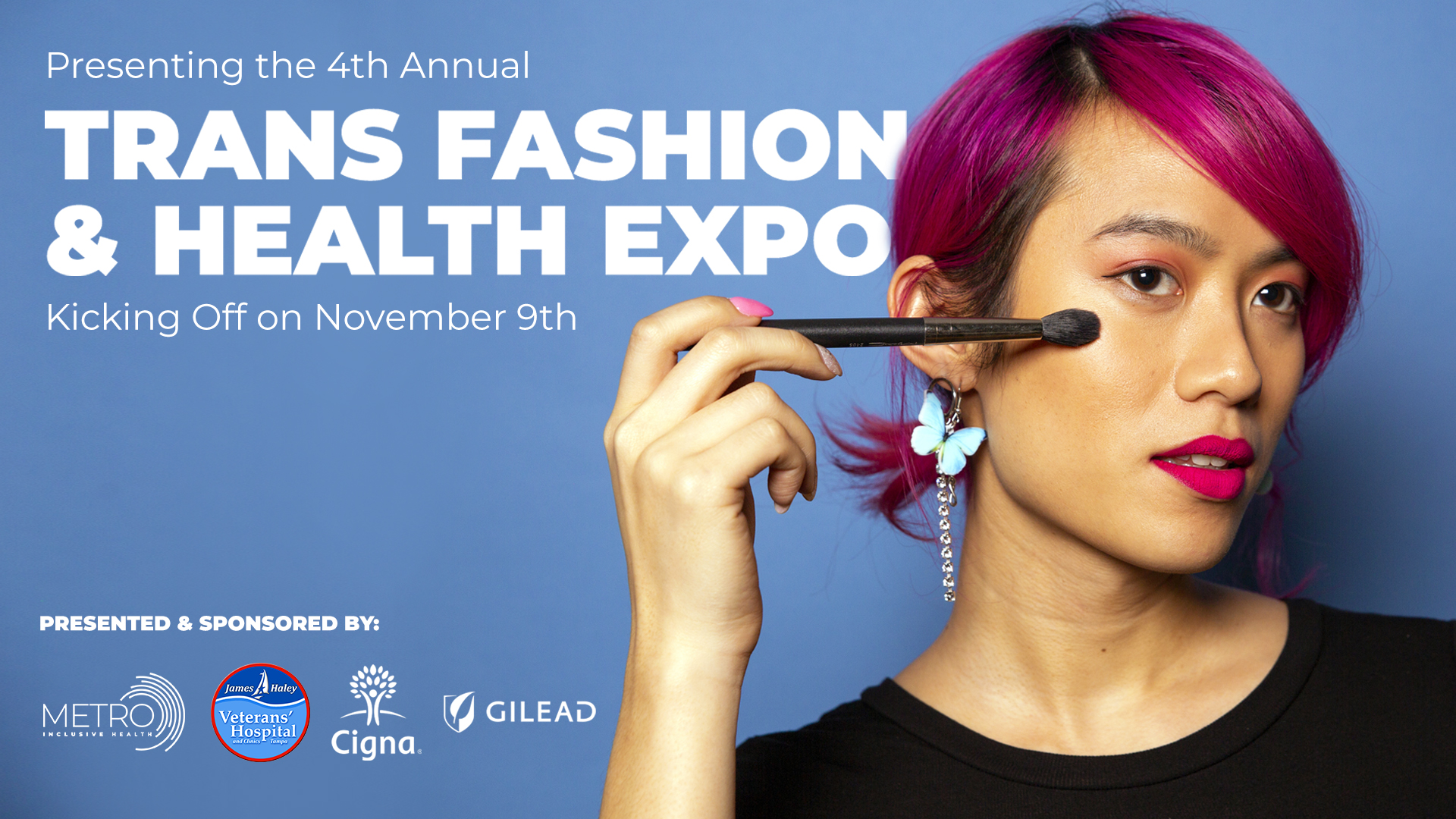 4th Annual Trans Fashion & Health Expo
Metro Inclusive Health & the Tampa Bay Area VA are hosting the 4th Annual Trans Fashion & Health Expo in November 2020! Offered for the first time in a virtual setting, participants from across the nation are encouraged to log in for engaging workshops tailored to the trans, non-binary, and gender diverse experience. Participants will also have the opportunity to win prizes such as gender affirming clothing & accessories, makeup, and gift certificates to Tampa Bay's restaurants and attractions.
Our featured presenter this year is Schuyler Bailar. He is the first transgender NCAA D1 men's athlete, as well as the first trans athlete to compete for Harvard University and the Ivy League, and he's been featured on The Ellen Show and The Olympic Channel. You may know Schuyler as @pinkmantaray on Instagram!
He will lead the "Coming Out: Friends, Family, & Workplace" session. Scroll to the bottom of the page for full schedule.
Event sponsored by Cigna (Presenting Sponsor) and Gilead. There is no registration fee to attend. For more information, email us at TransCommunity@MetroTampaBay.org.
This event is now concluded. If you're interested in METRO's trans community services, please reach out to TransCommunity@MetroTampaBay.org.
Hourly Schedule
Day 1 (Monday, Nov 9)
6:00PM

-

7:00PM

Livestream Kickoff Event

via FB Live (Metro Inclusive Health FB page)
Day 2 (Tuesday, Nov 10)
6:00PM

-

7:00PM

Workshop 1

HRT, Surgeries, and Medical Transition
7:00PM

-

8:00PM

Workshop 2

Supporting Your Mental Health
Q&A and Raffle Prizes

-

At the end of each workshop
Day 3 (Thursday, Nov 12)
6:00PM

-

7:00PM

Workshop 1

Dating, Relationships, and Sexual Health
7:00PM

-

8:00PM

Workshop 2

An Exploration of Gender Identities & Expressions
Q&A and Raffle Prizes

-

At the end of each workshop
Day 4 (Saturday, Nov 14)
11:00AM

-

12:00PM

Workshop 1

Resume Building & Interview Skills
12:00PM

-

1:00PM

Workshop 2

Coming Out: Friends, Family, and Workplace with Schuyler Bailar
Q&A and Raffle Prizes

-

At the end of each workshop