🛏️ Raymond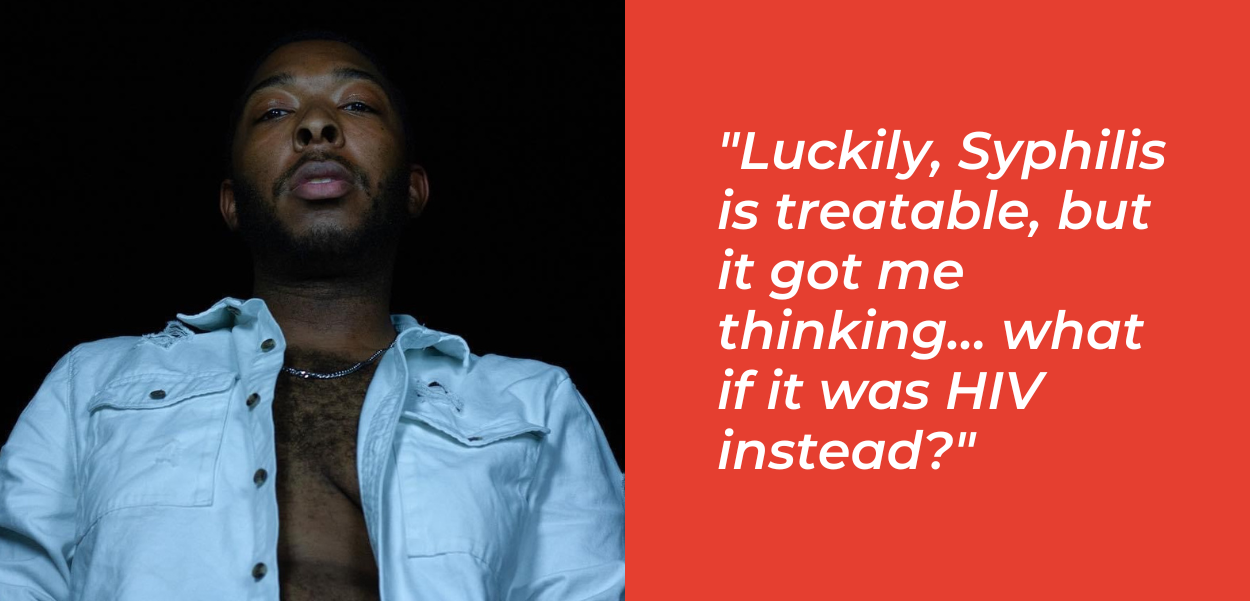 Hey, y'all! My name is Raymond. I love to be out at the gay bars, see my friends, and go on adventures. I've lived everywhere from the Redwood Forest to the Gulf Stream waters, but nowadays you might catch me sipping a drink at Bradley's on 7th shaking that thang and hanging out with my friends. I ain't got time for holding myself back, and the same goes for what happens in my bedroom. That's why PrEP has been such a game changer for me and why it can be for you too.
When I first came out at 19, I was in the best place to be a young gay man: California. I could not get enough of those beautiful California boys and they could not get enough of me. Thankfully, I learned all about HIV and condom use when I was studying at FSU so I was really good about using condoms. Over some time, I started to get a little more comfortable and I would slip up on using condoms with partners I had a regular situation with. Eventually my condom practices started slipping up a little more often… oops! Well, oops is right, because that oops turned out to be Syphilis.
The thing is, I do always carry a condom on me. It's just that in the heat of the moment thinking about condoms can get lost in the sauce. Luckily, Syphilis is treatable, but it got me thinking… what if it was HIV instead? I needed extra protection to help cover all the bases. After getting treated for my oopsie daisy, I had to see my doctor again for the follow up. I wanted to ask her about what I could do to be sexually active but still be sexually responsible. That's when she talked to me about this amazing form of protection called PrEP. We talked about how PrEP is a discreet, daily pill I can take that prevents HIV when condoms are out of the equation. It got me thinking about how much safer I would feel after I would jump a guy's bones and realize I forgot to use a condom again. "Where do I sign?" I asked. This is gonna be the beginning of some great new adventures…
🐰 Juan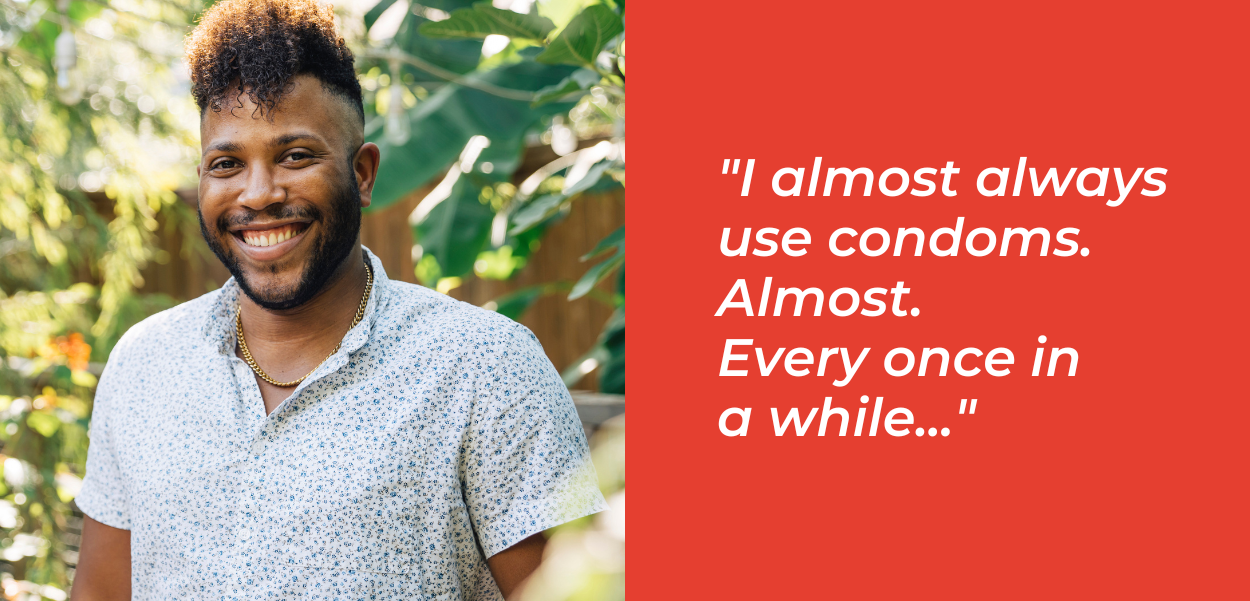 My name is Juan, and I'm a 30 year old cis gay man who recently moved to the Saint Petersburg area. When I moved, I couldn't wait to start dating and find my Bad Bunny honey. My roommate always keeps it real with me and he told me that the Tampa Bay area has one of the highest populations of people living with HIV. He said that I might want to start taking PrEP. I've stayed away from taking PrEP because I feel like I'm pretty safe when it comes to having sex. I don't typically hook up on the first date and when we do get to having sex, I almost always use condoms. Almost. Every once in a while, there'll be a cute guapo with baby blues that I just can't resist and I'll forget where I am. I heard that there were some side effects from PrEP, so that was giving me some hesitation too.
I decided that the next time I went to get tested, that I would talk to my provider about PrEP. The doctor told me that most people feel light nausea when they first start, but that the more serious side effects, like kidney and bone density issues, were really rare. I still had my doubts, but I figured I'd give it a try and see how I feel after some time. I've taken PrEP for a few months now and I have to say I feel way more confident going on dates with los papis of Tampa Bay, especially those living with HIV. I'm still single but I have hope that one day mi amor will show up. In the meantime, I'm going to have the best time looking for him
🎥 Zayden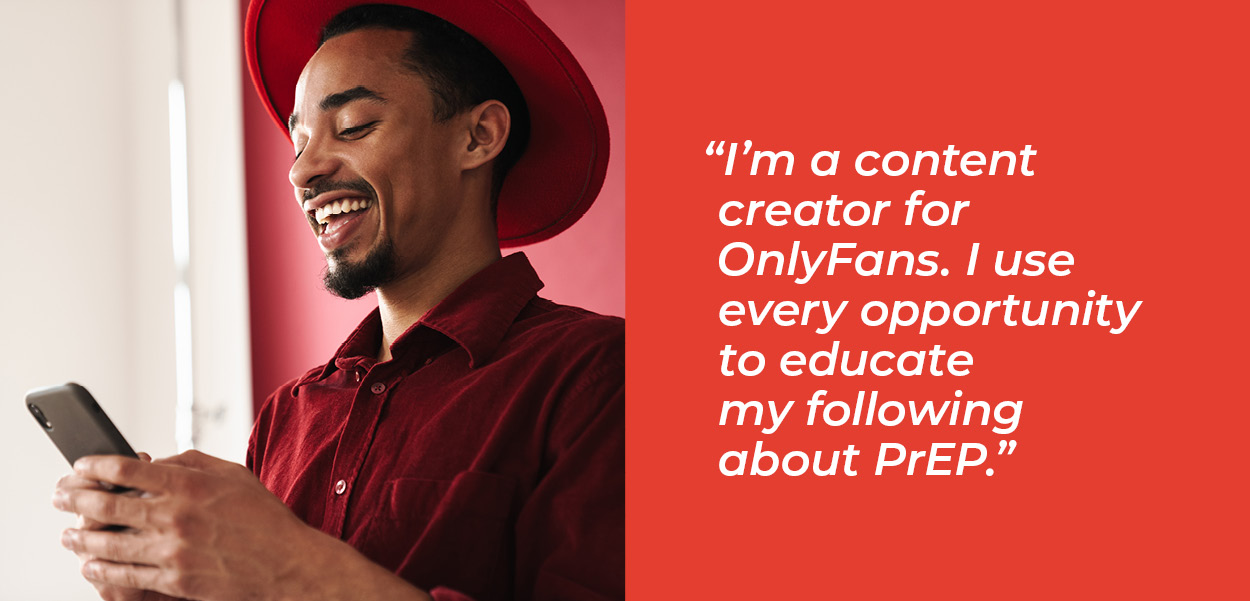 My name is Zayden and I'd like to share my experience with you. I'm a Black same-gender loving (SGL) man from Jacksonville. I'm also an entertainer and a content creator for OnlyFans. Yep, that's right, I create explicit video and image content for my fans' viewing pleasures. You can imagine the amount of judgment I get daily, on and off camera.
Before getting in front of the
camera though, I didn't follow the best safe sex practices. I love raw sex. I know it's not what people expect to hear, but it's the truth. Knowing my truth helped when I was tested for HIV back in June. The guy testing me suggested PrEP as option. Taking a daily pill would help protect me from HIV.
I'd never heard of [PrEP] before. I wanted to be safe and set the right examples, but some folks felt it would be safer and easier to just wear condoms. I've tried and it doesn't work for me. Besides, I know condoms can break but PrEP protects me up to 99%, when taken as directed. Needless to say, I went back and got a prescription for PrEP and my doctor reminded me that PrEP doesn't protect me from STDs.
Now I'm able to create content with the reassurance that I'm promoting safer practices than before. Though some are still not in favor of what I do, at least l have one layer of protection from HIV. I use every opportunity to educate my following about PrEP and how standing in my truth helped me get here.
🙏🏾 Jerome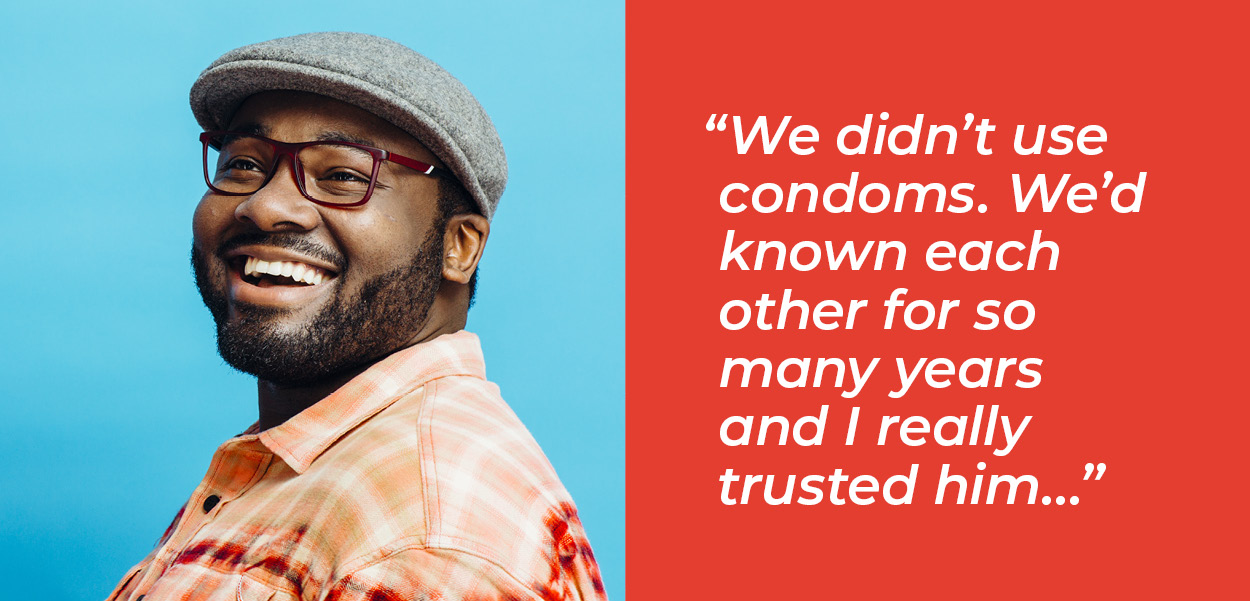 Hey, what's up? I'm Jerome, a 36-year-old college-educated black man. I was raised by my grandmother in a non-traditional Southern Missionary Baptist home, so yea, we were very religious. For that reason, I don't identify as gay. In my community, we prefer "same-gender loving men."
I moved to St. Pete to start a new career after graduating college, and prior to relocating I was in a monogamous relationship with an HIV positive partner. I have a degree in social work as well as social science, so I was well-versed in HIV and knew how to protect myself from it. However, because I was on PrEP and he was virally suppressed, we didn't use condoms. We'd known each other for so many years and I really trusted him, so we practiced having open and honest conversations about adherence to our regimens.
Between my career and network of close friends, I was regularly reminded of the disproportionate impact HIV had on black and brown communities. I currently live in one of the 5 zip codes (33712, 33701, 33711, 33705, and 33713) that account for 44% of new HIV infections in Pinellas County for the past 5 years. In my new role, I've found that my decisions to have unprotected sex with an HIV positive partner while on PrEP perpetuated the stigma.
Now that I am single and at lower risk, I can set a better example for my community. I now accessorize my PrEP with condom use in every sexual encounter, regardless of viral suppression or relationship status. I can take pride in knowing I am safe, setting the right example for my community, and enjoying the single life's hook-up culture.
🤔 Aldo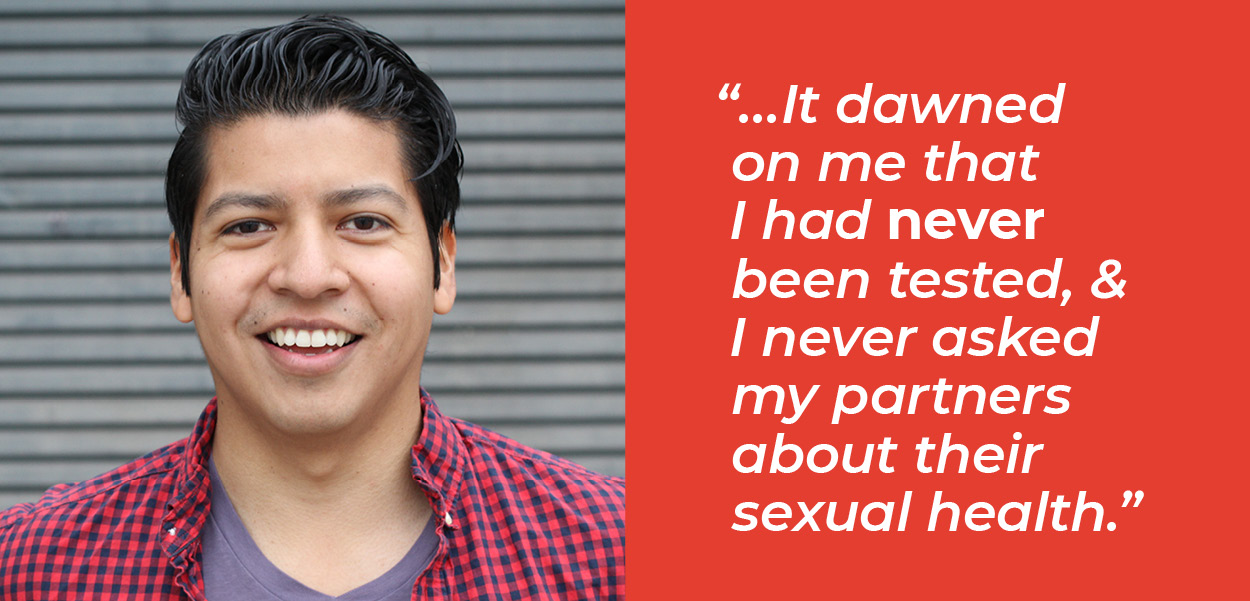 Hi! My name is Aldo, I'm 23 years old, and I live in sunny St. Pete, Florida. Lately, I've been thinking about my experience with sexual health so far. I'm currently on PrEP with an established testing routine and in a fun open relationship, but it wasn't always like that.
When I was 19, I was young and fresh out of the closet. I was excited and willing to nosedive into any gay experiences. I quickly found myself experimenting with drugs and multiple sexual partners. I was having a blast!
Some time had gone by while I was having my fun. It slowly dawned on me that I had never been tested and I never asked my partners about their sexual health/testing history. It was overwhelming to even rationalize the idea of getting tested because I rarely used condoms with many of my partners. The idea of possibly getting a positive result didn't sit well with my anxiety and depression, so I was struck with analysis paralysis.
Thankfully, a good friend of mine brought me to METRO where I got a free HIV test and some more information on HIV. I didn't know too much about STI's before my visit, but the sexual health specialist made it easy for me to understand. The specialists recommended getting tested every three months if you're sexually active, so I try my absolute best to stay on track. I still have my fun, but it makes it far more enjoyable knowing that I'm sexually responsible and getting tested regularly.
➕ Mitch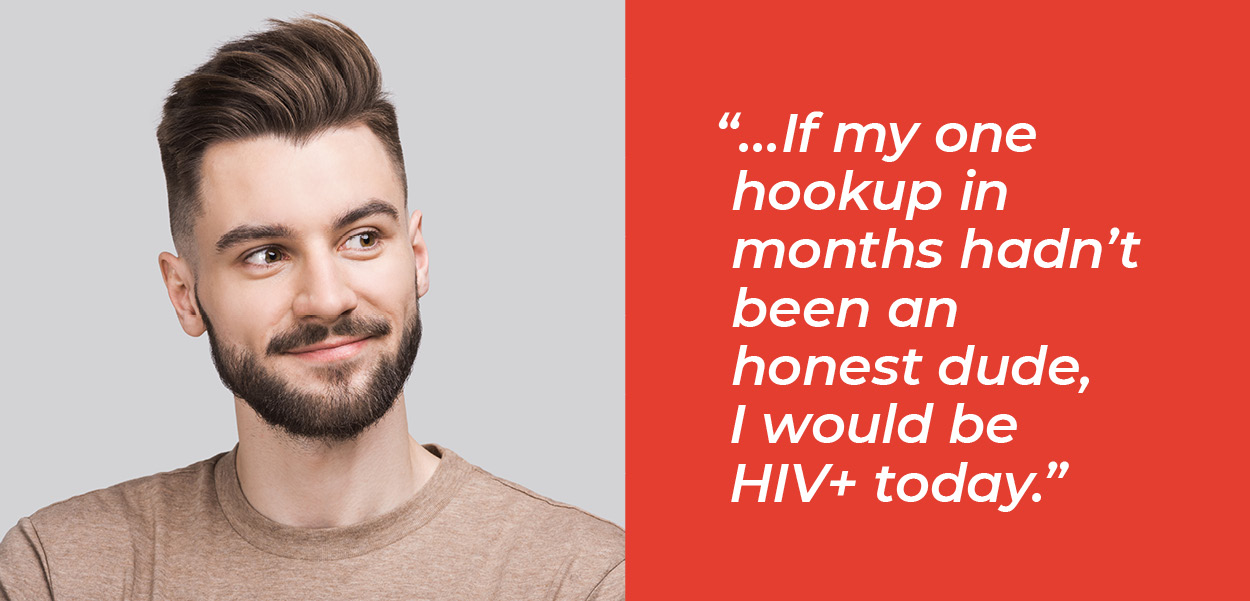 My name is Mitch, I am in my mid 30's and I had an HIV scare a few years ago that got my act together. I was traveling and decided to treat myself while I was out of town; it was just one guy, what's the harm right?
He was hot, beautiful dark skin, intense and so fun. He was super nice and down to earth; we didn't use a condom at all because, what are the chances? I got on my flight early the next morning and when I touched down I got a message from him saying he just got his test results and they had come back reactive for HIV.
I told my doctor and he got me in before that evening, and got me started on nPEP before the deadline (72 hours from initial exposure). I was relieved, but extremely rattled. If my one hookup in months hadn't been an honest dude, I would be HIV+ today.
I told my friend and he told me I should get on PrEP (once a day pill to protect from HIV). I was reluctant. I don't like pills, and even my doctor didn't know much about it. I did my research, talked to people that I knew took it, and I went back and told my doctor that I wanted to get started on PrEP ASAP.
That was a couple years ago now and I am grateful for the scare. Getting started on PrEP allowed me to let down my walls long enough for me to go out and date comfortably, and I even found my fiancé during that time.
🧲 Jonathan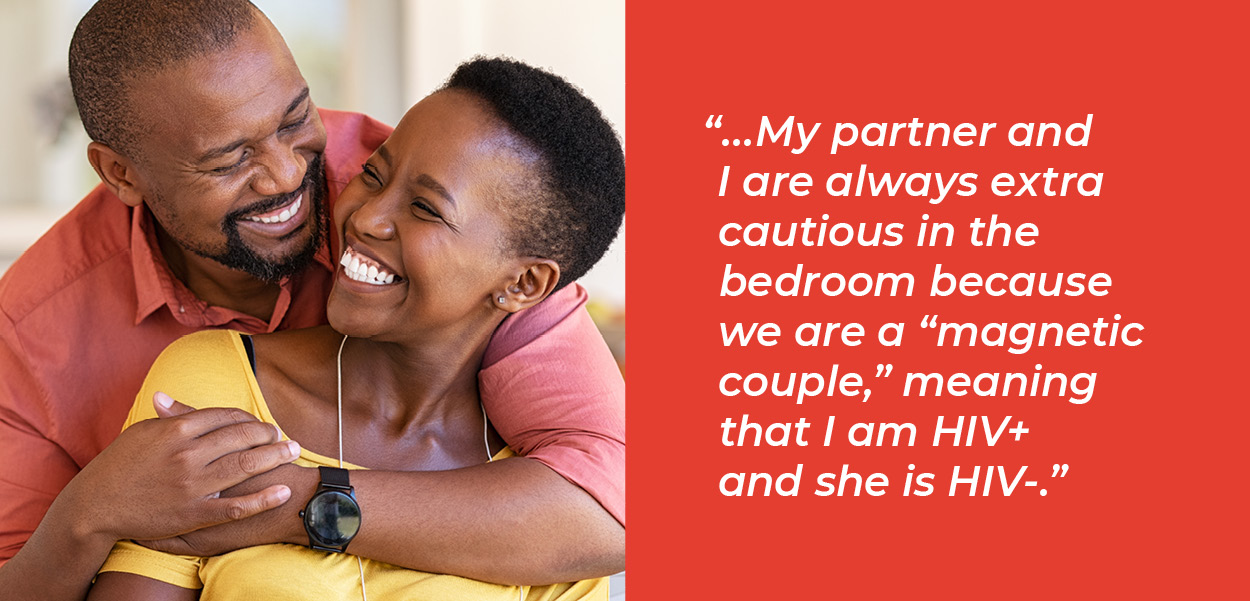 Hello, I'm Jonathan! I am a black, former pro-wrestler living in the heart of Tampa, FL with my wife, Sierra. I have been HIV positive since 1998 and following my initial diagnosis, I have been a stickler for taking my medications every day. Some days are easier than others, but thanks to my beautiful and supportive partner, I find that my will to getting to and staying undetectable is always a top priority in my daily life. My partner and I are always extra cautious in the bedroom because we are a "magnetic couple," meaning that I am HIV+ and she is HIV-. Any time we engage in sexual activities we are sure to use a condom, since it became available I've been wanting to add another form of protection into the mix: PrEP.
I have had multiple discussions with my partner about starting PrEP over the years, but she always seems to come up with excuses as to why she does not want to. Most commonly, Sierra states that she does not want to take any other medications and since we use protection every time, she doesn't see the importance of starting PrEP. Being that we are well educated and advocates for PrEP, I try to do my best to weigh the pros and cons to better understand her decision, but I still feel the most responsible action would be to start this preventative measure to better protect her. When we chat about PrEP, I typically feel hopeful and our talks never turn into an argument; she knows that I am only trying to keep her safe. Although this has been an ongoing discussion in our home for several years, with no avail, I plan to continue bringing up PrEP in hopes that Sierra will change her perspective on starting the medication.
💬 Beau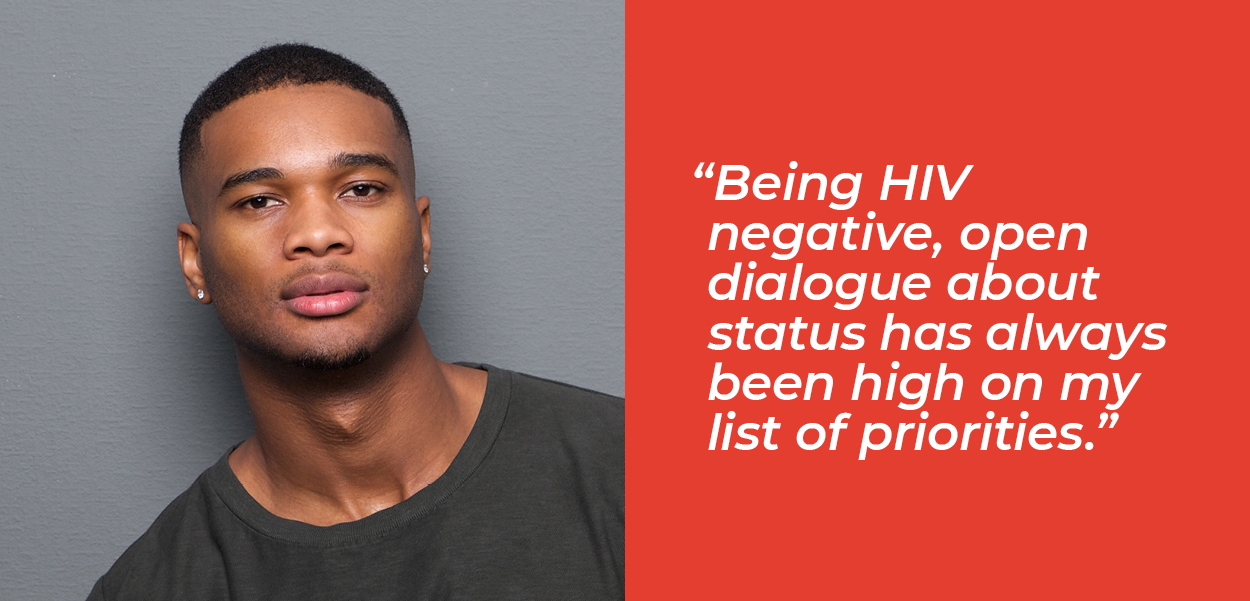 I am Beau Blair, a 25 year old black guy new to the Tampa area. I have always been the type of person to believe in goals, both in my personal and professional life. Dating new guys, I wanted to make a goal of asking about my partner's status. Being HIV negative, open dialogue about status has always been high on my list of priorities.
The more I began to date, the harder the conversations about status became. Most guys focused on the act of jumping into sex right away. Personally, I only used condoms when a guy shared that he could be high-risk or I had an uneasy feeling. Protecting myself by using condoms 100% of the time then became my personal goal. But, with my partners, one mention of status or our last testing dates and all communication came to a halt instantly. To me, knowing goal behavior can shape your future. I began to focus on the places I would frequent and people I was dating and hooking up with.
Once I stepped outside the box and started going to new places, I meet this great guy. This time, rather than focus on sex, he was interested in more dialogue. We both have previously been in long term relationships and found it extremely comfortable to communicate with each other. The focus on upfront communication came from his adherence to PrEP medication.
When the time came for us to talk about our status, it was so easy. We both shared that we were negative, and through open conversation, we both have agreed to set personal goals. My partner's goal is to remain steadfast with PrEP. Now, we have been in a relationship for over a year and our sex life couldn't be more safe and sexy.
💇🏾 Jackson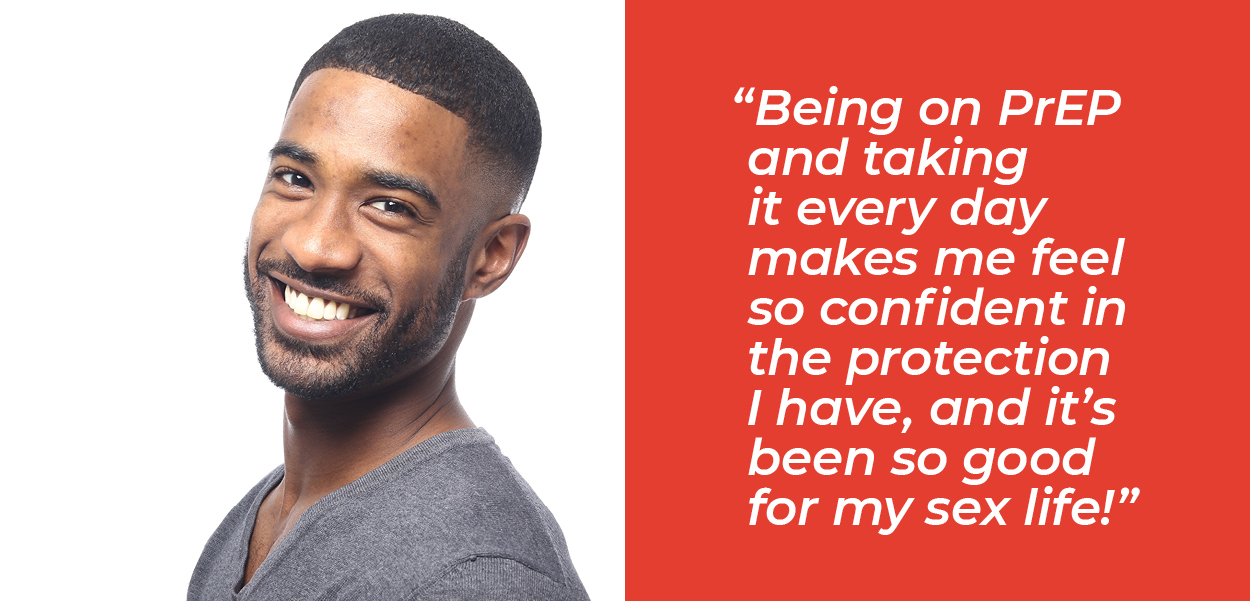 Heeeyyy! I'm Jackson, I use he/him pronouns, I'm twenty-eight, and I'm all about positive energy, hair and makeup! Tampa is where you can find me if you need a stylist. A little more about me… I started taking PrEP about a year ago. But to be honest, I didn't quite see the full benefit of it to me when I started so I wasn't taking the pill every day like I knew I was supposed to. You see, I was in a relationship at the time and even though we occasionally slept with other guys, we both routinely tested for HIV every 3 months and knowing my man's status, I felt like my risk was slim to none.
You know, so moving forward in life things happen and we ended up parting ways. As fate would have it, in walks my Mr. Right about six months ago. I've always been open about getting tested and knowing my status, so it was easy to get to know each other and for him to disclose he is HIV positive.
Meeting this guy and the physical attraction that we have, I knew right away that I would definitely need to step up adherence to my PrEP medication. I knew it was going to be hard remembering to take my PrEP with my rotating schedule of salon and makeup clients, so I created a location reminder on my phone that tells me to take my pill every day when I get to my shop.
As of today, I'm totally rocking it out. The automatic reminder was the best tool I could've implemented, and I've only missed maybe two doses in the last six months. Being on PrEP and taking it every day makes me feel so confident in the protection I have, and it's been so good for my sex life!
📱 Tré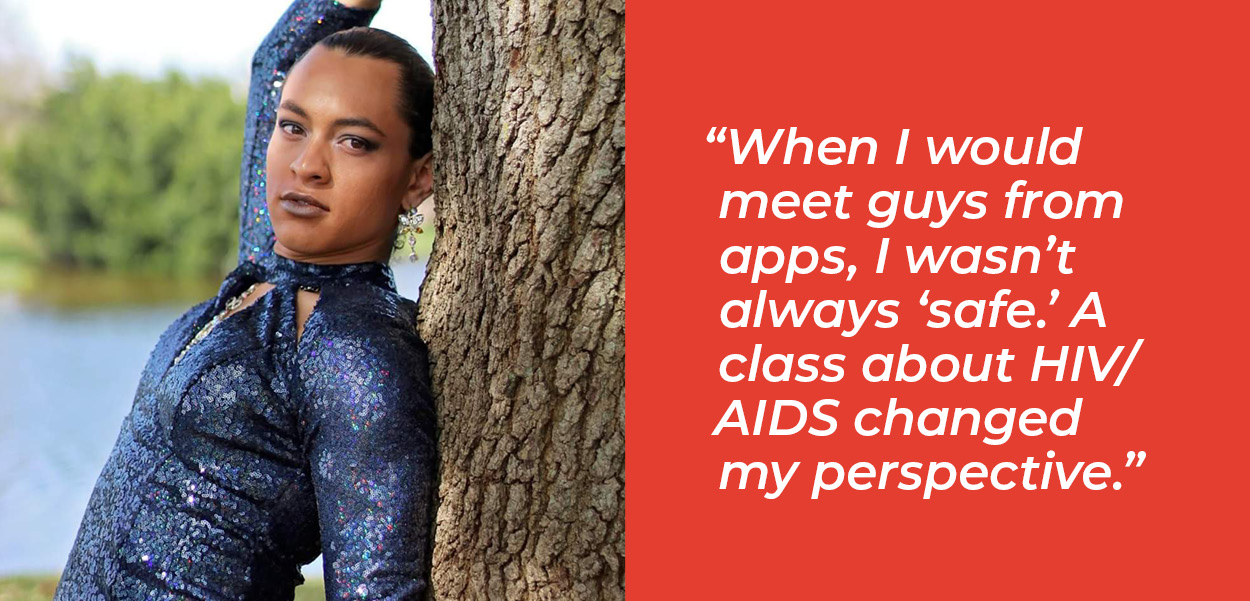 Hi, my name is Tré. I am 22 years old, gay, and Latina living in Clearwater. I'm having fun and taking care of my sexual health, but that wasn't something I always did. A couple of years ago, when I would meet guys from apps I wasn't always safe. When it came down to using condoms, I wanted to, but sometimes it just didn't happen. When I would ask partners to use a condom, they just wouldn't, and I would just go with it. I wanted to be with people more than I wanted to protect myself. The more this happened the more afraid I was of HIV.
About two years ago I took a class about HIV/AIDS and it changed my perspective on being safe. I needed to use protection, not only for myself, but also for others.
Now, I have a new strategy, if I meet people from apps, I make sure to talk about condoms before we meet up. Sometimes people still want to have sex without condoms, but I speak up for myself and refuse. I know that it's not worth risking the health and safety of my loved ones and myself. Being able to establish that I use condoms every time beforehand helps me feel less stressed.
Now, I feel more in control and aware of how my sexual health impacts the community.
😍 Levi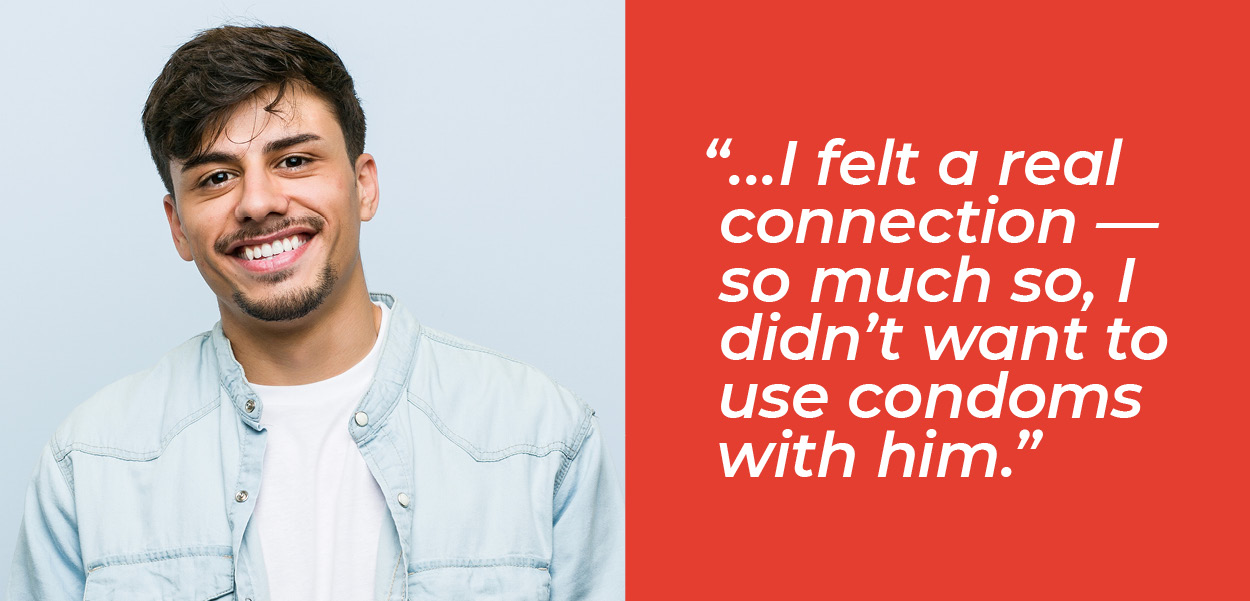 My name is Levi, and I am a 19-year-old Hispanic gay male who has been living in Florida for a few years now.  Recently, I met a guy a few cities down through a mutual friend, and since being introduced we got to know each other through social media and even met briefly a couple times in person.  
After a few months I felt comfortable with this guy (we'll call him Brent), and I just couldn't help but go visit my long distance bae when he invited me!  For me, it was more than just a weekend hookup, because I felt a real connection — so much so, I didn't want to use condoms with him.
Some time passed since our weekend rendezvous and about two weeks later Brent sends me a text telling me he had tested positive for HIV.  At this moment, I panicked and questioned everything, like "Why was I so willing to have unprotected sex with him?" and "Why didn't I ask his status, or when he last got tested?" and I felt very vulnerable in the coming months.
After several bouts of testing, I did come back as non-reactive, but I still felt it was important to make some changes to avoid this type of situation in the future.  I took time to reflect and came to the conclusion that I do like to have sex a lot, but not necessarily with people I'm not super familiar with.  With some of the pressure of hookup culture in the gay community I always felt a need to conform, but after my own scare with HIV, it has become more apparent that casual sex is just not for me — and that is okay.
Learning more about my partner's own sexual health, condom negotiation, and being more connected on a friendly and/or romantic level is what has proven to work best for my sex life.  Currently I have a friends-with-benefits situation that has been working wonderfully, meaning regular testing every three months, condoms, and open conversation about who else we're seeing and honestly, I love it here!
🔥 Chris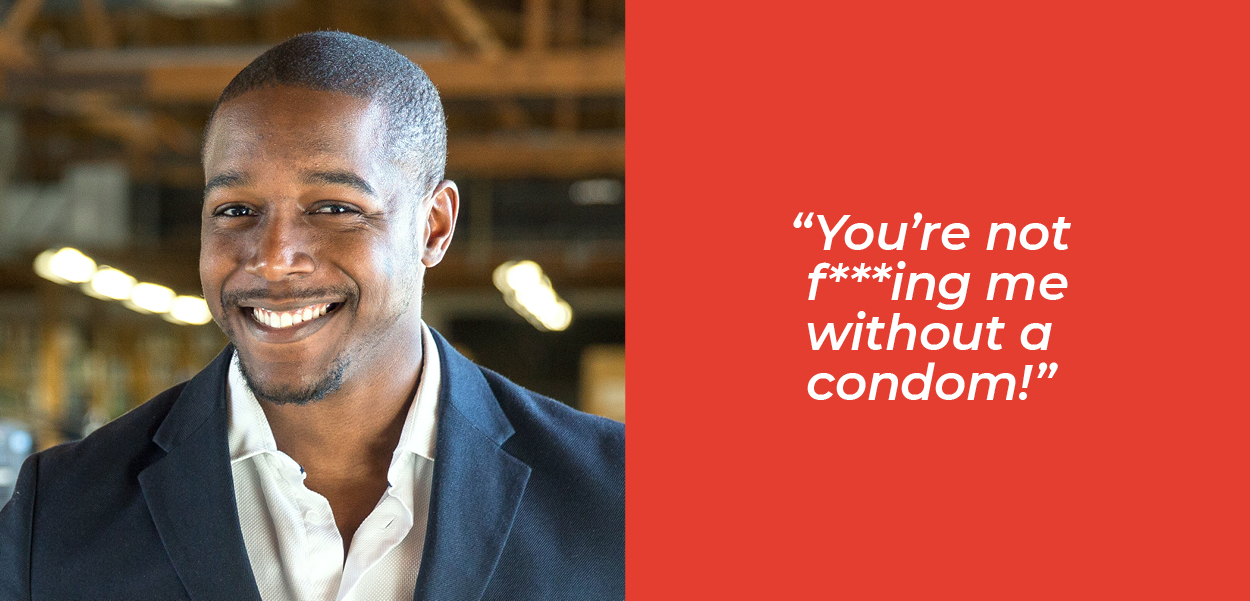 My name is Chris. I'm 48, was born and raised in Philadelphia, and now live in St. Petersburg, FL. I began going out at age 16, at the height of the AIDS epidemic, and was always aware of safe sex practices, but didn't always protect myself even into early adulthood. In my younger days in Philly, my friends and I would go out on the town and have a lot of fun, and a LOT of sex! Hell, we even used to have contests to see how many guys we could sleep with in one night—I wasn't usually the winner of this contest! We weren't particularly afraid of getting sick ourselves because, at that time, it seemed that only the older guys from the 70's party scene were getting sick, so I continued to go out and have my fun as I became a young adult and moved to Tampa.
One day, my roommate got me involved with Tampa AIDS connection, and I saw up close what HIV could really do to people. It made me realize that this illness is not a joke and that I could very well become a statistic. My roommate reaching out and my exposure to what HIV was doing to my community made me shape up and start telling guys, "You're not f***ing me without a condom!" I experienced some good-natured chiding about it from my close friends—in fact, whenever I would turn down a guy because he didn't want to be safe, my friends would always say, "But he's HOT," and I'd reply, "Yeah, he is…but he's not!"
Reminding myself of the terminally ill people I met—what they went through, and how they became my friends—helped to keep me focused on the risk to myself and the fact that condomless sex just isn't worth it. Over 20 years later, I'm still here, still kicking, still HIV negative, still consistently using condoms, and happy to share my story.
💊 Dreaux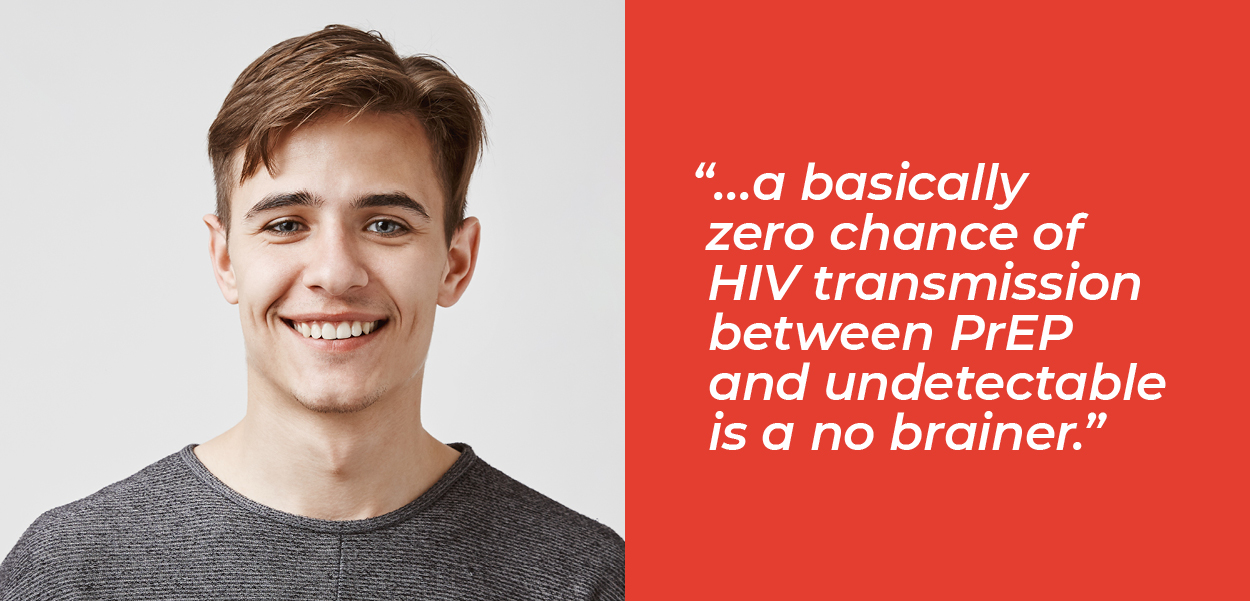 Ça va! I'm Dreaux, originally from Louisiana and in love with St. Pete. Since moving here two years ago, I've had some awesome things happen to me. I was really excited about all the new opportunities I had, including meeting new guys. Fun times for a 26 year old! So I met a guy that I clicked physically with (a lot), who is HIV positive and undetectable. By this point I had already done my research and understood that it's virtually impossible to transmit the virus when someone is "undetectable." I had also done extensive research on PrEP and the effectiveness of it when you take it daily like they tell you to.
Before I met this guy I didn't feel like I really needed PrEP, but when I thought about the basically zero chance of HIV transmission between PrEP and undetectable, it was a no brainer. I had never been on daily meds before so remembering to take it every day was hard and I missed doses like once or twice a week. It took me a good two months before I got into the groove of things, but I knew that the only way I would get the most protection was to take it every day. I finally figured out that if I put the pill bottle next to the moisturizer I use daily that it would be in my face, so to speak.
I've been on PrEP for about a year and now I rarely miss a dose. Ok so maybe I might miss like once a month, but since I've been on it I'm happy to say that I've been able to maintain a healthy sex[ual] relationship with the guy because of the confidence I have in PrEP, and I've never felt better about my sexual wellness and security. I really recommend you try it.
🍆 Johnny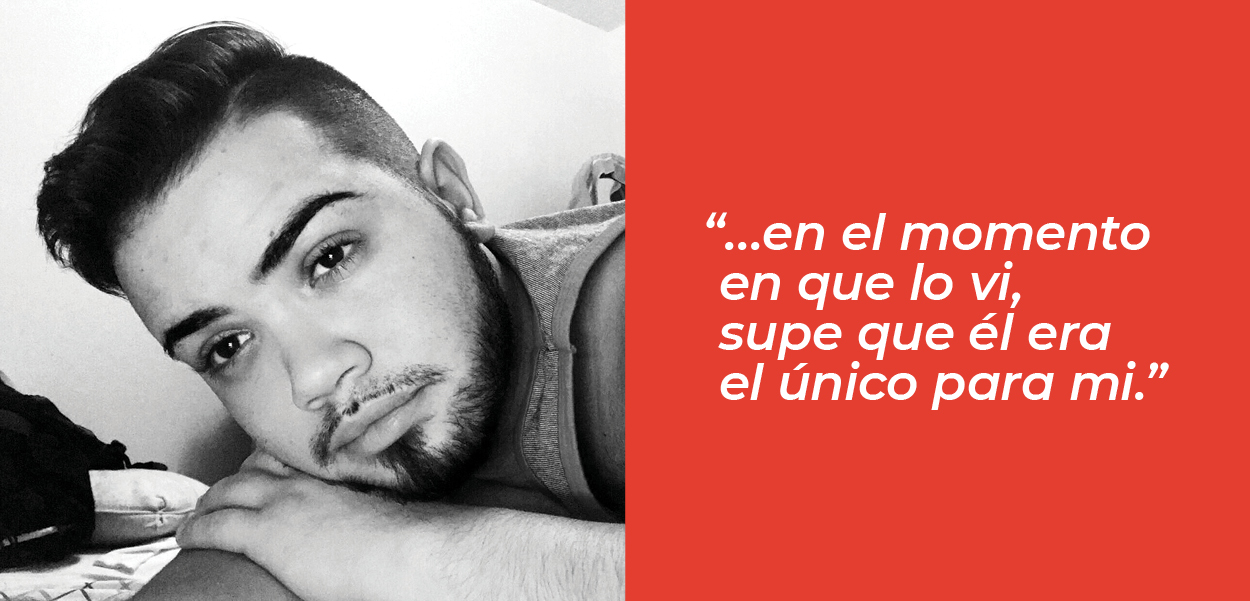 Hola, mi nombre es Johnny. Soy un varón Latino de 23 años. Vivo en Tampa, FL, y estoy saliendo con un hombre que es VIH positivo, pero indetectable. Muchos me dicen que estoy loco, pero en el momento en que lo vi, supe que él era el único para mi. A el que yo me entregaría completamente; en todos los aspectos, ya sea emocional, mental o físicamente.
Cuando se trataba del sexo sabía de la posibilidad de contraer el VIH, así que necesitaba asegurarme que yo estaría bien. Quería seguir siendo negativo, so la primera solución que me vino a la mente fueron los condones. Esto es un dolor de cabeza para mí porque amo la sensación del sexo sin condón. El sexo con condón simplemente no es lo mismo.
Una noche mi novio y yo estábamos viendo la tele y salió un comercial que promovía el nuevo condón de HEX. Me encantaba cómo se veia el condón; era fuerte y me permitia sentir todas las sensaciones. Decidimos darle una oportunidad y fue increíble, incluso me olvidé que el tenia puesto un condón.
Ahora que sé que existen muchas variedades de condones, amo tener sexo con protección. La mejor parte es que puedo mantener una relación saludable con mi enamorado y mantener mi estatus negativo. Si nosotros pudimos hacerlo usted también lo puede hacer.
💉 Adam
Hello! My name is Adam, and I'm 38 years old living with HIV in sunny Tampa, FL. Before living here, I actually spent most of my life in LA. There, I was able to do some cool stuff, like hop on a popular drag queen television show and other neat TV opportunities. Shortly after riding the rollercoaster that is Hollywood, I jumped into new personal experiences. I was going through bouts of depression, so I started using drugs because my friends were doing it. They said it helped them with the things they were going through, so I decided to help myself out.

I didn't think much of the consequences associated with needle use, especially needle sharing. School only taught us that drugs were bad, but they didn't really dive into the biological effects, such as HIV and Hep C. There would be days where I would spend hours on end sharing drugs with friends and people I barely knew. It wasn't until I was diagnosed with HIV in 2014 when I realized that I needed to kick this habit, but I wasn't sure how. It was tough when I had friends that used all the time.

It took a while, but I removed myself from my triggers and turned to my family for help. They helped me find healthy coping mechanisms, like therapy and social support groups. I haven't used since then, and I'm thankful for my family for keeping me on track to living a healthy life with HIV and depression.

💞 Phillip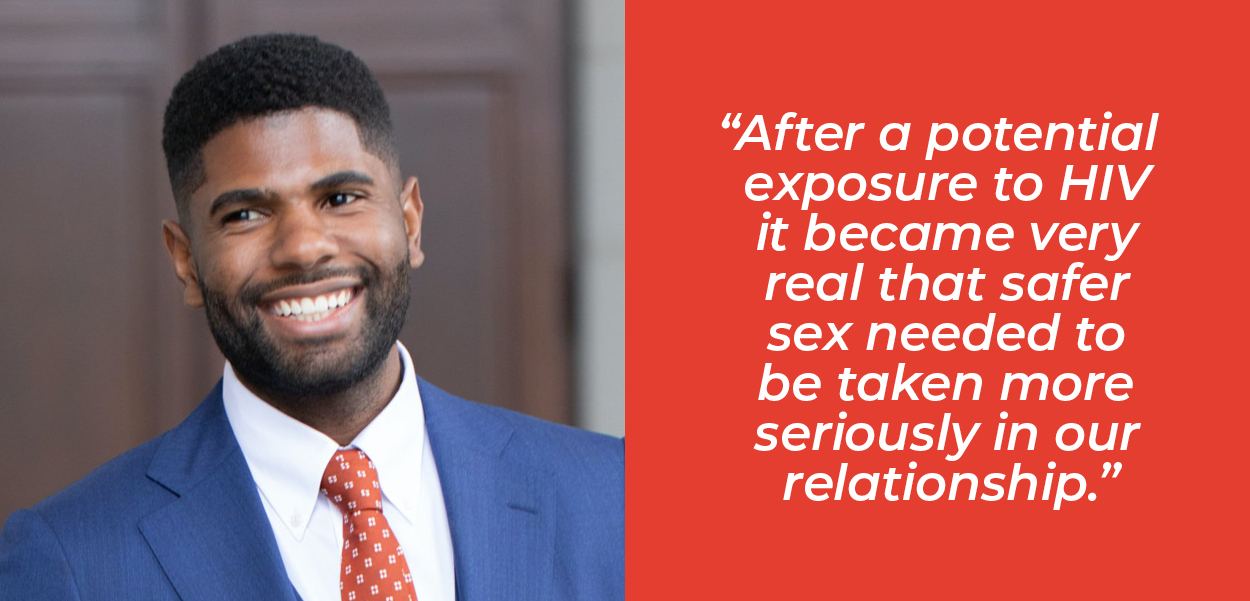 Hi, I'm Phillip. My partner and I have been in a monogamous relationship for the last six years, and we recently agreed to open up our relationship. We were able to make this decision as a same-gender-loving Black couple once we both recognized our needs to expand our palates sexually.
As a man working in healthcare, I felt that we needed to make a point of being safe while having our sexual encounters. Over time, however, I found that at different events and scenarios, condoms and sexual health talks just weren't happening in the heat of everything.  Then, after a potential exposure to HIV it became very real that safer sex needed to be taken more seriously in our relationship.
My biggest concern was not only contracting any type of STI or compromising my own health, but especially passing anything to my partner.  I knew about PrEP but I didn't feel like I needed it, because I didn't think I was at a real risk for contracting HIV. I thought "I'm not out there like that." Now that my risk factors have changed, my hesitancy shifted towards not wanting to be judged for being on PrEP, as many people (even some in my immediate circle) would slut shame those taking PrEP. But I knew this was the right step to take.
Having a friend who was already on the medication who gave me some perspective ultimately helped me make the decision to get started. My friend reminded me that other's judgements about what you do for your own health is irrelevant. People use PrEP for many different reasons.  In the end, we have set appointments to get started on PrEP and will be living our best lives because of it.
😜 James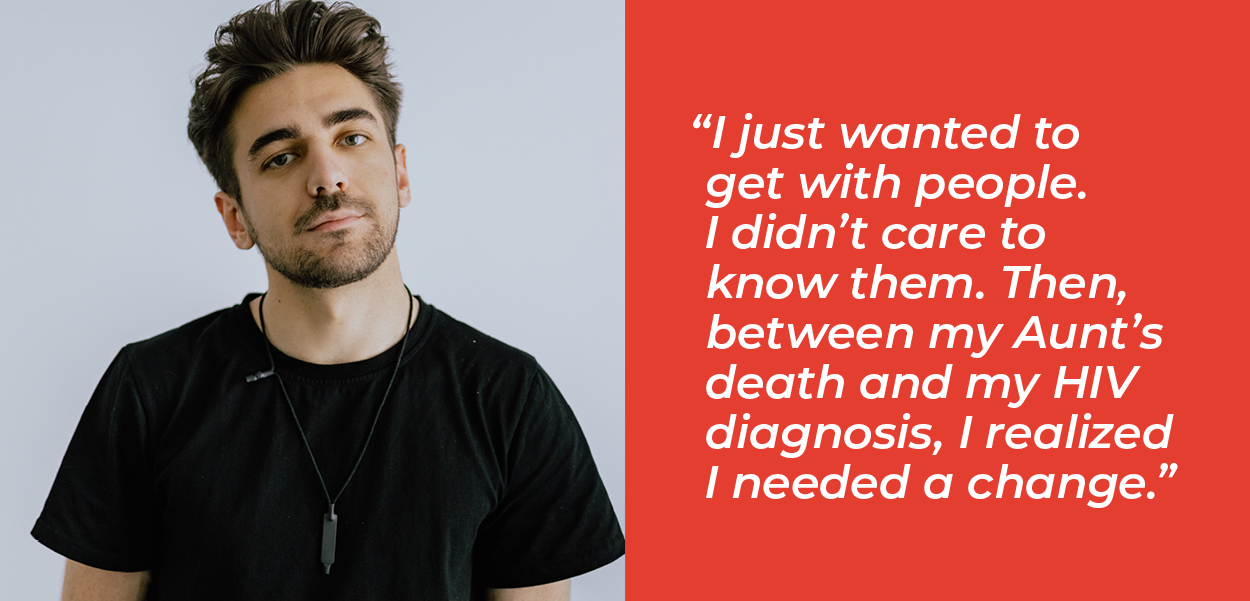 Hey! James here. I'm 32 years and I moved to Tampa, FL to find some warmer weather, only to find the guys were even hotter.
When I moved here, I was the embodiment of live fast die young. Before my move I was in a toxic relationship which lead me to developing the bad habit of using hookups as the equivalent of handshakes. I just wanted to get with people. I didn't care to know them.
Then, between my Aunt's death and my HIV diagnosis, I realized I needed a change. I was a deeper person than these shallow connections and needed something new. I deserved better. Being raised by my aunt and uncle, as a Latino, gave me a unique perspective outside of the cookie cutter life that I wasn't living up to.
So I set forth for a change of scenery, in search of myself and those to celebrate life with. I wanted to have less partners and really connect with the people I had sex with.
It was difficult at first, moving around, unsteady jobs and such, but ultimately the journey brought me to the self-discovery I was hoping for.
Finding the circle of people I felt that I could grow with and going to counseling equipped me with the self-sufficiency I needed to stop engaging in anonymous hookups and seek more meaningful connections. Once I had steady friends that were able to support me I found it easy to stick with partners that I really cared about.
It's been over a year now, and I don't hookup with lots of people I don't know anymore. I really like the people I'm sexual with. To top it all off, it really helped my mental and emotional health to take care of my sexual health, and now I'm on track to be all I can be.
❓ Anthony
Hey, guys! My name is Anthony. My job brought me to the Tampa Bay Area, and I'm SO glad it did! I've been getting my work done, but… I've spent a fair amount of time playing. I can't say it's always been fun, though.
When I first moved here from Miami, I had a close encounter with HIV. I hooked up with a guy and he disclosed his HIV status to me after we had sex. He said he was undetectable, but I had no idea what that meant at the time. I spent most of my time beating myself up about the situation because I realized I rarely ask people their status before having sex with them.
I had little knowledge about HIV, undetectable status, and emergency prevention methods like PEP, so I needed to start asking questions. I got tested by my primary care physician and asked every single question I had, that way I could leave well informed and ready for the next time.
To make things easier for myself and others, I ask people, "When was the last time you were tested? Do you have a testing result card?" I typically pop these questions way before we plan to meet up, that way it doesn't "ruin the mood." I'm so glad I found a solution that works for me and that keeps me in control of my sexual health.
🛫 Ryan
Hola! My name is Ryan and I'm a friend of Dorothy who loves to travel, meet new people, and get involved with the local community. I love living in St. Pete, especially after moving from Nashville where fewer people know what an authentic tortilla tastes like! Being surrounded by so many different cultures is exciting and I also have ample opportunity to practicar mi Español. I love activism, especially when it comes to matters that effect people living with HIV. It's something that is very near and dear to me since I've been living with HIV since 2015. I get to enjoy a very full life with my husband thanks to all the advances that have been made in Antiretroviral Therapy (ART). But that's not to say that I had it all figured out when I had to start taking medication. I really needed the help of the people in my life to help keep me healthy.
I was diagnosed with AIDS at the same time I was diagnosed with neurosyphilis. Neurosyphilis is when syphilis crosses into the spinal fluid and becomes a brain infection. Prior to diagnosis I started falling a lot, slurring my words and even had the paramedics called by strangers when I fell into a ditch and couldn't get out. As you can imagine, this really rocked my world. I had to adjust to an entirely new routine on medication. I also had to figure out how I was going to continue to stay on my treatment. For those of you who don't know, the Ryan White program aids those who are underinsured to get the treatment they need to manage their HIV viral load. Back in those days, I had to prove my eligibility for the program four times a year which required me to verify my address. It was a difficult process, since at the time I didn't have an exact address. You know what you don't want deal with when you just learned you have HIV? Paperwork.
If I didn't have the support of my parents who offered to let me stay with them, I might have not been able to get my treatment through the Ryan White program and put my adherence at risk. When I got out of the hospital, I moved home to start my recuperation. U=U had not become an official statement at that time, but making sure that my viral load had gone down to be considered undetectable was my goal. After a few months, I was able to get there and I had renewed confidence in being back on the dating scene. I eventually met the man who would become my husband. He worked with people who were living with HIV, even though he himself was not living with it. His own knowledge about HIV helped me lessen my own self stigmas about having the virus and when I'd been undetectable for about six months we made the decision for him to come off PrEP.
Dealing with the difficulties of living with HIV can be enough to bring many people down. My story is proof that it can be done, but not alone. It's important that you stay up to date with your ADAP appointments and Ryan White eligibility if you need that to stay on your treatment. Find a doctor who you like and understands what you are going through and if taking pills is a struggle for you, there's an injectable treatment now too!
🌊 Lenn
Hey, Lenn here. Friendly Puerto Rican guy who loves to take long walks, especially by the water! If you hang with me, you can bet that we're going to have a good time. Life has tried it's best to throw me some curveballs, but you can call me Derek Jeter cause I hit those out of the park. Even after finding out I was positive for HIV in 2010, I still manage to live life to the fullest.
Don't get me wrong, there was a time when I thought I was out for the count. Even though I was pretty good at staying on my HIV medication for many years, I had stopped taking it in 2017. At that time, the medication was not very gentle on my body. I was feeling awful sometimes and my viral load even stopped decreasing even though I was taking the pill every day. My doctor was telling me that there were some issues with my liver and blood sugar too, so I was terrified. With all these complications, I just couldn't find the motivation to stay on ART.

I knew I was putting my life at risk. Sometimes, when you have to deal with major challenges, doing something as small as taking a pill every day can seem like moving a mountain. But, it just so turns out that moving mountains is what I do as a workout. I've had to overcome abandonment by my family, pulling myself out of literal poverty, and even surviving a suicide attempt. After all that, I couldn't let anything stop me from taking care of my health. To help with the blood sugar problems I eliminated sugar from my diet. I also picked up on doing more exercise to help me lose weight (at one point I was 400 lbs). Eventually, I lost the weight and got my sugar right and made my appointment to see the doctor. I've been back on my meds now for a few years and feel better than ever! I stopped having sex when I wasn't on treatment. Being back on my meds gave me the confidence to get back on the horse… or should I say cowboy.

If you are living with HIV like me and life is getting in the way of taking your treatment, please remember to love yourself. Do what you have to do to be in the best place to get back on your medication. There will always be obstacles but there are many organizations who can help you make at least some things easier. Ask for help, and remember that you are capable than so much more than you know.
🏖️ Miguel
Hi there mister, I'm Miguel. I love going to the beach, Sunset Beach to be specific. Where else am I going to soak in all the vitamin D that I need after a long day? I often go by myself after work. I like to listen to my salsa music, pop a beer or two while watching the hot guys walk by. I like to keep men where I can see them because I've learned over time that I can only trust them as far as I can throw them. It's the main reason why I've been thinking about taking PrEP.

I'm not gonna lie, I love bareback sex. I only do it with guys that I've been talking to for a while. Some of them have even been on PrEP, which helped give me some peace of mind. The only problem is, some guys always have something else crazy going on. I've had more than a few hookups where I find out the guy is doing Tina (meth) and was trying to hide it from me. I've even had one guy tell me he was taking PrEP, only to find out later he was really taking HIV medication! I would have been OK with that if he had just told me too. After all that, I decided I was done with scrubs and that I need to focus on the one person who won't let me down –me, myself, and I. So, I've been abstaining from sex… 6 months and running!

Choking the chicken can only take me so far though, I would like to have sex again but I need to take matters into my own hands. I like PrEP because the responsibility is on me to take care of my sexual health. I haven't pulled the trigger on taking PrEP yet because I'm just cautious about medications in general and what they can do to your body over the long term. Not to mention, PrEP does not protect you from STI's, so it's not like condoms are completely out of the picture. I'm not going to be that guy who gets duped again though, so I've been doing some more research online and talking to my friends about how they feel after taking it. I think I'm going to call my doctor soon, but I just need to feel confident.