Data-Driven Strategy Returns This 30-Year Organization to its Roots: Putting Community Healthcare Back into Communities
With 30 years of history in the Tampa Bay area, Metro Inclusive Health has continually been at the forefront of healthcare innovation and market change. The organization revealed plans to embark on a massive transformation as it seeks to meet demand while addressing increased barriers to healthcare in underserved communities.
Over the next 12 months, METRO will re-distribute operations currently located at the St. Petersburg and Tampa centers over six full-service satellites in areas identified as high-demand and high-need. The move will significantly expand the organization's reach from four locations to eight, including its two existing health centers in Clearwater and New Port Richey. All will provide over 100 health, wellness and social services with labs and pharmacy services. Areas identified include North Tampa, Brandon, Seminole Heights, South and Downtown Tampa and North, Central and South St. Petersburg. Three locations are close to being finalized, and one is already secured with construction underway.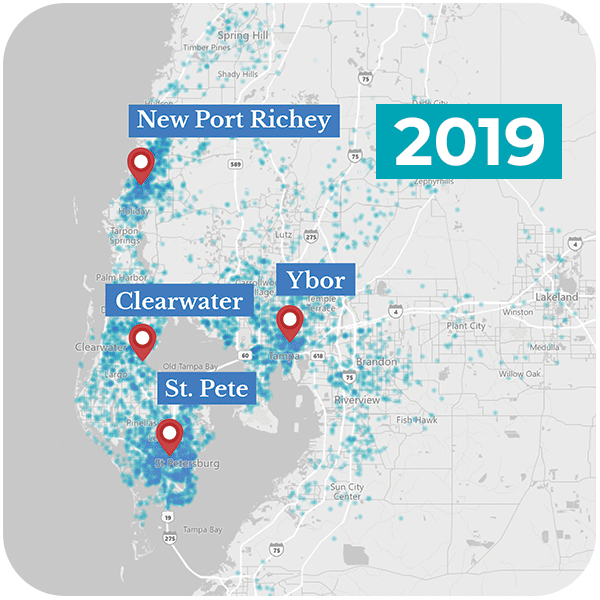 "Ninety-percent of patients receive more than one service at METRO," said Priya Rajkumar, Co-CEO and future CEO of Metro Inclusive Health. "These moves will create substantial annual cost savings that can be redirected towards providing services to the community while also contributing to the financial longevity of the organization."
Citing population growth, hybrid work schedules and commuter times, the 501(c)3 non-profit healthcare organization has been studying patient demographic patterns from as far back as 2019. In 2021 and 2022, the organization experienced explosive growth with patients traveling from all corners of the region including as far as Lakeland and south of the Skyway. In 2022, it touched 30,711 lives in the Tampa Bay area, up from 26,997 in 2021 and subsidized nearly $60,000 in transportation for medical appointments in 2022. 
"As the region grows, it's clear that insured and uninsured patients will make the trip for access to quality inclusive healthcare," said Chief Marketing & Business Development Officer, Brian Bailey, who initiated the concept of shifting the agency towards a regional model. "Based on data, we immediately saw a need to get back to METRO's roots by focusing on putting community healthcare back into more communities."  
With industry trends and big box brands expanding into community healthcare, METRO understands that destination community health centers are no longer the most effective way to reach patients in a modern-day Tampa Bay. 
"At METRO, insured and uninsured patients go hand-in-hand," Bailey continued. Through its Copay It Forward program insured patients provide free healthcare to those without insurance just by getting their prescriptions filled by a METRO partner pharmacy. In 2022, the program accounted for $660,450 in free healthcare to individuals without insurance. 
"This is our opportunity to invest in local healthcare equity," said Lorraine Langlois, Co-CEO who is retiring at the end of the 2023 after 30 years of service to METRO. "I'm delighted to see this organization innovating to meet the needs of our community. Our team is the best and brightest of the industry."
Metro Inclusive Health is a St. Petersburg-based not-for-profit Federally Qualified Health Center Look-Alike founded in 1992 with one service, HIV Case Management. Today the organization offers over 100 combined services and touches nearly 30,000 lives each year. With a focus on LGBTQ+ health and wellness, along with on-site labs and pharmacies, 90% of patients receive more than one service at METRO. In addition to accepting most insurances including Medicare and Medicaid, the organization offers a sliding-scale fee program to uninsured patients based on proof of income. Supported by the Copay It Forward program, insured patients subsidized $660,450 in free healthcare to uninsured members of the community in 2022.